Schedule an appointment: 847-864-1130

Shiatsu Massage Therapy In Evanston, IL
Massage For Chronic Conditions
Stress Relief & Wellness
Schedule an appointment:
847-864-1130
Evanston's Massage Alternative - Zen Shiatsu
What is
Zen Shiatsu Massage?
Shiatsu massage is deeply relaxing on every level, helping pain and tension to melt away.
Shiatsu brings ease and comfort to the joints, helping you find freedom of movement.
Shiatsu deeply calms the whole nervous system, promoting a feeling of safety and deep support.
We relax specific acupoints, helping the benefits go deeply to every part of the body, supporting healthy sleep, digestion, elimination and immune function.
Your session will be tailored to your exact needs and your individual healing process.
If you have pain and tension, we will learn how to work with your body to support relaxation and release tension within your comfort level.
If you have issues with sleep, digestion or other health issues, we will take a detailed health history and adjust the session to support your healing.
Shiatsu therapists are holistic health specialists and can share suggestions of adjustments you can try in your own life to support your healing.
Best of all, it feels great!
Everyone can benefit from shiatsu.
Shiatsu is deeply respectful of your whole self, and helps you be truly at home in your own mind, body and spirit
That is what healing is, and we are happy to share it with you.
Take the first step, let us know your goals for treatment, and let's explore your healing together.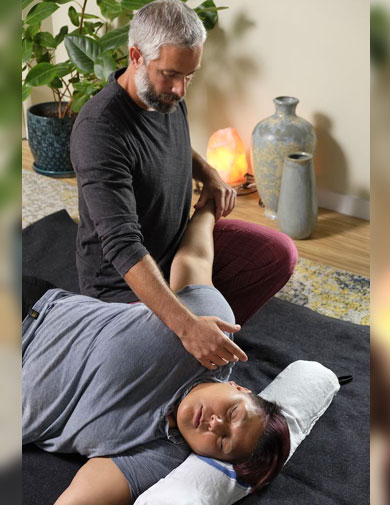 SHIATSU MASSAGE FOR
STRESS RELIEF & WELLNESS
Keep your sleep, digestion and energy level on track
Address routine aches/pains and acute injury
Relieve ordinary amounts of stress and emotional upset
Choose this option for most common problems and for general health maintenance.
$110 for one hour / $95 each for 3 prepaid
Appointments at our Evanston massage clinic are available seven days a week at a variety of times.
Pricing applies to on-site sessions at our clinic and does not apply to outcall sessions.  Please inquire for a personalized quote for outcall sessions.
All shiatsu therapists are trained to help with:
Muscle tension, joint pain and acute injury
Internal conditions including digestive disturbances, insomnia, menstrual dysfunction, edema, poor circulation, low resistance to infection
Common emotional disturbances such as anxiety and depression
Spiritual growth and evolution, connection to authentic self
Our clinic also specializes in chronic conditions including:
Conditions with complex immune system dysfunction, like allergies and autoimmune conditions
Degenerative illness
Life-threatening illness
Post-traumatic stress disorder, severe fears, phobias, anxiety and panic
Recurrent viral infection such as Epstein-Barr, Lyme, Shingles, etc.
Chronic pain originating from trauma or severe illness
Please fill out the form below, including your preference for date and time of your first appointment at our Evanston massage clinic. We will reply within 24 hours to confirm your appointment. Or if you prefer, call us at 847-864-1130 to make an appointment.